POWERUP MODULE
POWERUP MODULE
The PowerUp module has an easy-access press and release cover which contains two data ports and two receptacles. Modules plug directly into standard outlet.
Using the Activ8 Jumper which is available in 29, 53, 77 and 101 inch lengths, multiple PowerUp Modules can be connected in series. The Activ8 Infeed is used to connect them to AC. Available only in black color.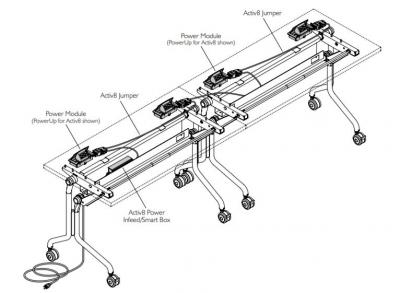 Please specify the location of the PowerUp Module on a table or desk so it can be cut and be ready for installation during delivery.
Please contact youe CSI Sales Representative for more information and pricing.
PowerUp Module: G-TB-AC8PUM-7 $78
Active8 Jumper: G-TB-AC8JP-xs (xx is the length of the cord) Prices Vary, for example the 77" jumper is $42
Active8 Infeed: G-TB-AC8IF-108 $118
How to Order
Fill out the form and click the submit button to add to your cart. You will then be directed to your shopping cart page. After you submit your order from the shopping cart page, you will be sent a confirmation receipt. Once our team has received notification of your order submission, we will contact you with more details.