CSI STEEL FOOTLOCKER
CSI STEEL FOOTLOCKER
Our 16 gauge steel foot locker has over 3.5 cubic feet of interior storage. Finished with primed and heat cured enamel paint in neutral Vanilla Bean.
Features for maximum durability include: interior continuous piano hinge lid, L-bent, welded handle and reinforced sides. Hasp lock accepts standard padlocks. Measures 30.375" W x 16.25" D x 12.5"H.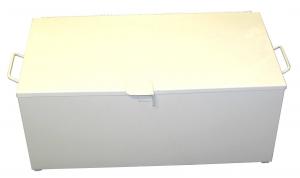 How to Order
Fill out the form and click the submit button to add to your cart. You will then be directed to your shopping cart page. After you submit your order from the shopping cart page, you will be sent a confirmation receipt. Once our team has received notification of your order submission, we will contact you with more details.