K-12 SCHOOLS
K-12 SCHOOLS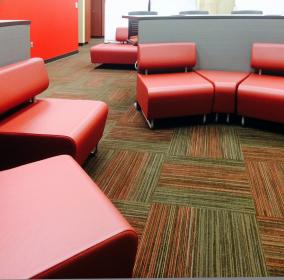 CSI provides classroom, cafeteria, library and office furnishings as well as custom items for the gym/athletic department.
Free onsite visit and custom design - CSI prices include delivery and set up throughout Nebraska
---
New Products for Schools:
Shibby is perfect for any library or commons area! With multiple configurations possible, Shibby can work in any space. With Shibby, you can break down barriers and build centers for activity in any space you choose. With a wide variety of fabric and vinyl options, you can have these pieces complement your school colors.
Sitka 4-Leg Stack Chair with Casters and Sitka Task Stools would be perfect for any computer lab or library commons space. Their Perfect Pivot™ technology makes these chairs comfortable, but also functional for any space. Both Sitka 4-Leg Chair with Casters and Sitka Task Stools come in three different design options: Poly back and seat, Poly back and Upholstered seat, and Upholstered back and seat. Choice of armless or with cantilever arms options.
Upgrade your school's furniture with these new sleek and versatile pieces by contacting your CSI Sales Representative.
---
For School Libraries:
For Classrooms:
Student desks and chairs
We offer over a dozen tables of various shapes for classroom use and 24 wooden tables of various sizes and shapes.
Teacher desks and chairs
Bookcases
Custom storage furnishings
For Cafeterias:
Tables and chairs
Table/Seat combos
We offer 48 varieties of rectangular tables with seats, 8 varieties of round tables with seats
For Offices:
For the Athletic Department:
Equipment reconditioning
New mats for the football stadium
New mats for the basketball court
Other Services:
All products are built to last, using quality materials and craftsmanship. For more information please contact your CSI Sales Representative.
See recent photographs of projects from throughout Nebraska. Additional photos of already completed projects can be seen in our Pinterest page.
Back to Markets Page
Click on the photos below to enlarge