FLEXCHARGE POWER MODULES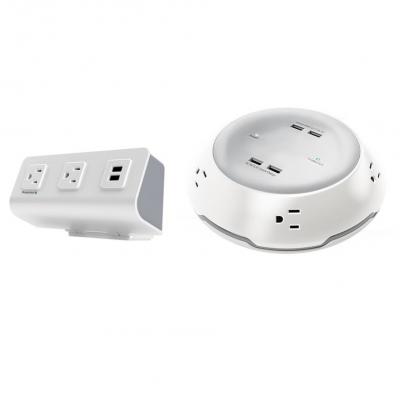 FLEXCHARGE POWER MODULES
The FlexCharge series puts power within reach for any type of workspace—whether it is an individual desk, benching environment, collaborative area, or conference room. FlexCharge power solutions include both USB and AC outlets so users can conveniently charge any device. Two choices available at great prices.
FlexCharge4

FlexCharge9

DESCRIPTION

The FlexCharge4 features 2 AC power outlets and 2 USB Quick-Charging ports for personal workstations.
Included is a universal mounting bracket allowing flexible installations - clamp, grommet, or underneath the worksurface.
The FlexCharge4 is UL and cUL Listed – exceeding stringent safety standards and requirements.

DESCRIPTION

The circular design of the FlexCharge9 compliments collaborative environments such as conference rooms, open offices, and third spaces.
This unit includes 5 power outlets and 4 USB Quick-Charging ports to power multiple laptops, tablets, and smart phones.
The FlexCharge9 is UL and cUL Listed – exceeding stringent safety standards and requirements.

SPECIFICATIONS

(2) Two AC outlets: 15A, 125V, 60Hz
(2) Two quick-charge USBoutlets: 3.1A, 5V
Can be mounted in a 2.0″ grommet or with included clamp (to the top or underside of worksurface)
Meets spill-protection criteria
8.0' power cord
UL and cUL listed
Built-in surge protection with indicator light. The light displays when surge protection is active.
Available in white
If the light is not illuminated, please contact Customer Service.
Warranty: 1 yr.
Installation Instructions - Please note that CSI will deliver but not install the FlexCharge4.

SPECIFICATIONS

(5) Five AC outlets: 15A, 125V, 60Hz
(4) Four quick-charge USB outlets: 3.1A, 5V
Ideal for worksurfaces in collaborative spaces and conference rooms
Meets spill-protection criteria
UL and cUL listed
8.0' power cord
Freestanding
Built-in surge protection
Circuit reset button on the underside of device
Available in white
Ideal for multiple users to charge up to nine devices at once with quick-charge USB ports and AC outlets
Warranty: 1 yr.
No installation is needed.
How to Order
Fill out the form and click the submit button to add to your cart. You will then be directed to your shopping cart page. After you submit your order from the shopping cart page, you will be sent a confirmation receipt. Once our team has received notification of your order submission, we will contact you with more details.