Understanding the difference between print and screen colors
Understanding the difference between print and screen colors
Tuesday, November 12, 2019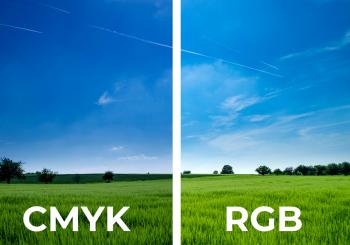 Adding colors will provide a better impression to your project. During the proof process is it vital to understand the colors are different when viewed in various ways. When we prepare, proof and print your project there are color variables to keep in mind when proofing your design. Here an explanation of the variations you may find between the proof and final printing.
CMYK: Abbreviation for cyan, magenta, yellow and key (black) inks in the full color printing process. CMYK is a subtractive color model, (colors overlap during the printing process). Various combinations of these inks are used to create the colors in the printed spectrum. Depending on the type of paper used the color could change during the printing. Coated papers lend themselves to brighter colors because the ink sits on the surface while uncoated papers absorb the ink and can be more muted. It is also important to note that color copiers do not always produce the same as our digital press because calibration can vary from one to another.
RGB: Abbreviation for red, green and blue which are the colors of light. RGB is an additive color model (colors add to the color's light wavelengths). Light emitting digital devices, including computer monitors, mobile screens and televisions, all use the RGB color model. RGB has a larger color gamut and produces a wider range of colors than printing can produce. Designs on screens are more vibrant and brighter than they will be once printed.
Black-and-White: Originals or reproductions are printed in black ink only.
Pantone / Spot Color: A single color named in the Pantone Matching System (PMS). The use of more than one is possible.
When you are supplying the artwork for printing it is important to use the correct applications as well as design them in the CMYK model.
Preferred programs
Adobe InDesign
Adobe Illustrator in CMYK mode
Preferred files types
INDD packaged folder with IDML file, fonts and images
PDF
EPS
AI
Programs not meant for print*
Microsoft Word, Publisher, PowerPoint, Excel, Access
WordPerfect
FreeHand
Files not meant for print*
JPG or PNG
DOC, PUB, PPT, XLS
*These applications and files are not adequate for high-end printing purposes.