DESHLER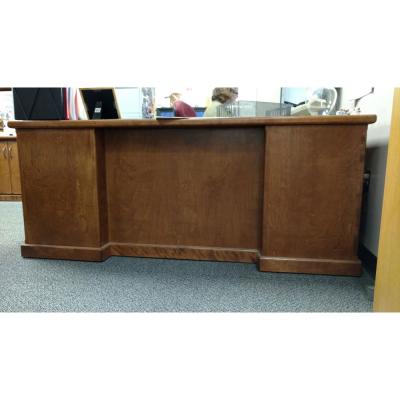 DESHLER
The Deshler desk (Series 4200 and 5200) is a two-pedestal desk and is available in three styles, traditional, fluted or panel. It offers ample storage and is ideal for medium size offices.
It measures 30" high by 72" wide by 30" deep. It has a total surface area of 15 ft2. It includes
two standard pedestals (box-box-file) with right locking pedestal
two dictation slides
a center drawer
A single pedestal (right or left) version is available and designed to be accompanied by an adjustable height table as the return.

Customize it with the many stylish options we offer. Choose the wood type (oak or birch), wood stain, laminate, edge profile and hardware. Request a sample of your favorite options, a quote or estimated delivery date by contacting your CSI sales representative.
Time for a new office chair? Check out our Seating to see the office and guest chairs we offer.
Check our desk inventory to find out if the desk is available for quick delivery.
CSI prices include delivery and set up throughout Nebraska.
Learn more about Deshler, NE
How to Order
Fill out the form and click the submit button to add to your cart. You will then be directed to your shopping cart page. After you submit your order from the shopping cart page, you will be sent a confirmation receipt. Once our team has received notification of your order submission, we will contact you with more details.
TRADITIONAL STYLE
Description
Double Pedestal 72" wide X 30" high X 30" deep
Description
Left Pedestal 72" wide X 30" high X 30" deep
Description
Right Pedestal 72" wide X 30" high X 30" deep
FLUTED STYLE
Description
Double Pedestal Pencil Drawer 72" wide X 30" high X 30" deep
Description
Left Pedestal Pencil Drawer 72" wide X 30" high X 30" deep
Description
Right Pedestal Pencil Drawer 72" wide X 30" high X 30" deep
PANEL STYLE
Description
Double Pedestal Pencil Drawer 72" wide X 30" high X 30" deep
Description
Left Pedestal Pencil Drawer 72" wide X 30" high X 30" deep
Description
Right Pedestal Pencil Drawer 72" wide X 30" high X 30" deep